Full Price: Varies
Regular price
Deposit: $750.00 USD
Regular price
Sale price
$750.00 USD
Unit price
per
Sale
Sold out
Discover Machu Picchu and explore one of the most advanced and incredible civilizations on Earth
If there is an international trek that best exemplifies an inspiring cultural experience and the spiritual power of an ancient people, Machu Picchu is it. The legendary site of early Incan creativity and structural design is our destination, highlighted by elaborate stone chambers, terraced hillsides, brilliant temples and the Intihuatana stone which served as the center of a primitive yet extremely efficient astronomical observatory.  Experience "The Lost City of the Incas" perched on a plateau at 8,000 feet in the Andes. Forgotten by outsiders for centuries, the ancient city of Machu Picchu was rediscovered by Yale archaeologist Hiram Bingham in 1911. Discover for yourself the legends and myths of one of the world's most fascinating locales.
Participants are encouraged to prepare for the altitude and approximately 4-6 hours a day on the trail. This unforgettable adventure begins in Cuzco, Peru and is one of the jewels of our Spring calendar.  Our 9-day trek follows the classic "Inca Trail" into the lush emerald forests of the Peruvian Andes. Or combine this trek with our nine-day Andes Discovery trek for an exciting back to back journey and discover two of Peru's extraordinary regions.
Machu Picchu and Classic Inca Trail
After arriving in Lima we begin our journey in the bustling colonial city of Cusco where we tour the colorful markets and visit nearby ruins. Then visit the Sacred Valley. From here, our fully supported trek follows an ancient path through the Urubamba Valley to what is referred to by the Quechua people as the "Cloud Forest". At last, we descend 1,500 cut-stone steps and enter the Gateway of the Sun, beyond which lies the glories of Machu Picchu. Built in the 14th century and unspoiled by the Spanish conquistadors, this historic site also known in Quechua as "Old Peak" will enchant the explorer within you.
Machu Picchu and Salkantay Trail
The Salkantay trek follows an ancient path to a high mountain pass between two great peaks known as Salkantay (6271m) and Huamantay (5850m). During the trek we also have the option of staying at nice lodges instead of tent camping. Following the pass, the trail drops to what is referred to by the Quechua people as the "Cloud Forest". At last, we arrive and enter the Gateway of the Sun, beyond which lies the glories of Machu Picchu. 
Services included
Park fees

All scheduled land transportation once in Cusco

Machu Picchu/ Cusco return train ticket

4 nights hotel accommodations in Cusco and Machu Picchu

3 nights tented accommodations

Cusco and Sacred Valley Tour

Scheduled meals in Cusco and during the trek

Professional guide

Porter service (10kg)

All group equipment for the trek (including tents, stoves, group gear)
Services not included
International airfare – USA to Lima

Domestic airfare – Lima to Cusco

Hotels while in Lima

Non-scheduled meals

Snack food during the trek

Personal gear

Single Room Supplement

Trip cancellation insurance

Medical and evacuation coverage

Staff gratuities
Share
View full details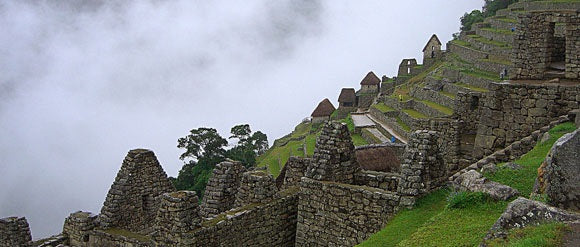 Collapsible content
ITINERARY


• Day 1:  Arrive in Peru; overnight in Lima.
• Day 2:  Arrive in Cusco; short walk from the Plaza De Armas, then time to explore the center of Cusco.  Orientation in the late afternoon.
• Day 3:  Visit the Urubamba Valley (Sacred Valley, 9,400 feet); explore ruins, visit markets. and enjoy local foods.
• Day 4:  Tour Cusco and visit historical site of Sacsayhuaman.
• Day 5:  Travel to Piscacucho; trek to Huayllabamba (3,000 meters).
• Day 6:  Trek along river trail towards Warmiwañusca ("Dead Woman's Pass"), passing through a cloud forest containing Polylepis trees. The pass itself is the highest point on the "Classic Inca Trail" (13,000 feet). Descend to Pacaymayo camp and facilities.
• Day 7:  Trek past Laguna Cochapata to Sayaqmarka and overlooks of the valleys of Urubamba and Aobamba; camp at Ruinas Phuyupatamarka ("Cloud Level").
• Day 8:  Short hike to Machu Picchu;  late-afternoon train takes us back to Cusco and transfer to hotel.
• Day 9:  Transfer back to Lima; flights home.

EQUIPMENT


Gear List

• Warm synthetic/ wool hat (one that covers the ears)
• Sun hat or baseball cap
• Sunglasses (essential eye protection at altitude)
• Sunscreen (SPF 40 or higher) and lip balm (SPF 20 or more)
• Bandanas: Tied around neck they give good sun protection
• Headlamp (bring plenty of batteries)
• Upper body layers: we recommend you have three warm layers, made of synthetic or pile. Make sure all layers fit comfortably over each other and supply good insulation. A good combination is a long underwear top, a sweater, and a pile jacket. Cotton items do not provide adequate insulation and are completely useless when damp.
• Synthetic fleece jacket and/0r pullover (medium weight)
• Shirts: 3 synthetic shirts for trekking, 3 cotton shirts for camp and lodges
• Hard-shell rain jacket with hood (GORE-TEX© or waterproof nylon that has been "seam sealed")
• Insulated synthetic or down jacket (medium weight)
• 1 pair lightweight synthetic gloves
• 1 pair quick-dry hiking shorts (good for hiking at lower elevations in the mountains)
• 1 pair long underwear bottoms (synthetic, no cotton)
• Hard-shell rain/wind pants (GORE-TEX© or waterproof nylon that has been "seam sealed"; full side zips)
• Trekking pants: synthetic, comfortable to climb in and provide good warmth on cool misty days, dry fast and prevent sunburn (Schoeller© fabric is recommended)
• Undergarments (enough for the duration of the program)
• 4 pair trekking socks (synthetic, medium weight)
• 1 pair hiking boots or trekking shoes (large enough to be comfortable with one liner sock and one heavy synthetic sock)
• Sport sandals or camp shoes (to wear in camp or lodges)
• Sleeping bag (rated to 0 degrees Fahrenheit)
• 1 frameless backpack (small size [2500-3000 cubic inches], comfortable with some support, adequate to carry personal gear. The pack should fit properly, have a good waist belt, and carry gear between 15 and 20 pounds.)
• 2 medium duffle/zip bags (1 to transport gear via porters; 1 to store non-mountain gear)
• Travel locks, nametags, and contact information written directly on the duffels
• Passport
• Trekking poles (adjustable and collapsible)