Full Price: $4,295 per person
Regular price
Deposit: $750.00 USD
Regular price
Sale price
$750.00 USD
Unit price
per
Sale
Sold out
Mt. Everest Base Camp In Nepal
This is it… follow in the footsteps of the mountaineering legends, and experience the thrill of climbing amongst the giant peaks of the Himalayas. Journey with us to the Base Camp of Mount Everest, a cultural and spiritual journey like no other. Our goal, Solu Khumbu, is home to the Sherpa people and is designated and protected as Sagarmartha National Park for its distinctive landscapes. The crown jewel is Mount Everest at 29,028 feet, is known by the Nepalese as Sagarmartha, meaning "mother goddess of the world".
Go Trek has been going to Nepal for more than 20 years. The company's lead guide, Craig Van Hoy, is one of a very few international mountaineers to speak Nepali – the primary language of Nepal – adding to the trip's enjoyment, comfort, convenience and safety. We'll begin and end the trip in Kathmandu, a cultural symphony of sights and sounds and a culinary adventure in itself. Once on the trail, Craig engages a gracious, welcoming party of Sherpa hosts that invite our trip members into their homes for rest (and tea). Each day is filled with vistas of jagged peaks and hanging glaciers; a photographer's dream. This exhilarating trek requires no technical mountaineering experience. Our itinerary allows for thorough acclimatization before we continue to the next rung of our mountain journey. As on all our treks in Nepal, dependable veteran porters or yaks carry all your gear. Typically, your individual day pack often includes items such as a camera, jacket, hat, gloves and a water bottle.
Duration: 18 Days   
Price: $4,295 per person
Island Peak Extension Option
Looking for that challenging technical alternative? Seeking an exciting climbing option with an unforgettable view of the entire South Side of Mount Everest? Join Craig Van Hoy for a bonus, three-day option climb on Island Peak (Nepal). Our base camp will be just above the village of Chukung. Early the next day, we'll set out for the glacier via steep slopes that could be covered in snow or mountain grass. Then, we'll rope up and grab our ice axes and crampons. The ascent of the glacier and along the final summit ridge is spectacular in every way. A fixed line is often used on the final portion to reach the summit. We'll be staring at Ama Dablam, Makalu and the Lhotse Face next to Mount Everest as we plant our feet on the final summit crest a few miles from Tibet. Basic mountaineering experience IS REQUIRED for the Island Peak Extension Option.
About Nepal
Nepal is one of the very few countries which offers many varieties of adventure tourism activities. Out of 14 highest peaks in the world, eight of them are located in Nepal: Mount Everest (8,848m), Kanchanjunga (8,598m), Cho Oyu (8,153m), Lhotse (8,501m), Makalu (8,475m), Manaslu (8,162m), Dhaulagiri (8,167m), and Annapurna I (8,091m). Besides these eight highest peaks of the world, there are another 1,310 mountain peaks in Nepal which are called "trekking peaks".  Nepal is truly a paradise for trekking and mountaineering enthusiasts.
Nepal is a land-locked sovereign kingdom surrounded by Tibet in the north and by India to the south, west, and east. It covers an area of 151,005 square km and measures approximately 800km in length and 250km in width. Officially Nepal is a Hindu Kingdom, but in practice Hinduism and Buddhism are mingled into a complex blend which is often impossible to separate. Small groups of Muslims and Christians are also found among the population.
EVEREST BASE CAMP TREK
The trek to Mount Everest Base Camp continues to be one of our most rewarding journeys. You will have a day to explore the exotic city of Kathmandu before flying into the remote mountain town of Lukla (9,350 feet) to begin our trek into the Khumbu region of the Himalayas. The views of the Himalayan mountains from Lukla on a clear day are breathtaking. We follow an ancient route that will take us through tiny villages, across high mountain passes, and through remote valleys, villages, and monasteries. The views grow even more spectacular as we venture up the Dudh Kosi River to Namche Bazaar, the gateway to the Khumbu region at 11,300 feet.
We will spend a night next to the Thyangboche monastery (12,887 feet), where you will be rewarded with spectacular views of Ama Dablam, Mount Everest, and Lhotse. A non-technical climb of Kala Pattar (18,450 feet) highlights the truly spectacular panorama of Sagamartha, the Mother Goddess of the World (Mount Everest, 29,028 feet), and Lhotse (27,560 feet).
Spending the better part of two days at Everest Base Camp will give us plenty of time for exploring the base of the tallest mountain in the world! The return trek continues to delight adventurous souls with more spectacular mountain views, lush forested valleys, and opportunities to learn about the Nepalese religion and culture.
Services included
Park fees

All scheduled land transportation

hotel accommodations

Professional guide

Porter service (10kg)

All group equipment for the trek (including tents, stoves, group gear)
Services not included
International airfare

Domestic airfare

Non-scheduled meals

Snack food during the trek

Personal gear

Single Room Supplement

Trip cancellation insurance

Medical and evacuation coverage

Staff gratuities
Share
View full details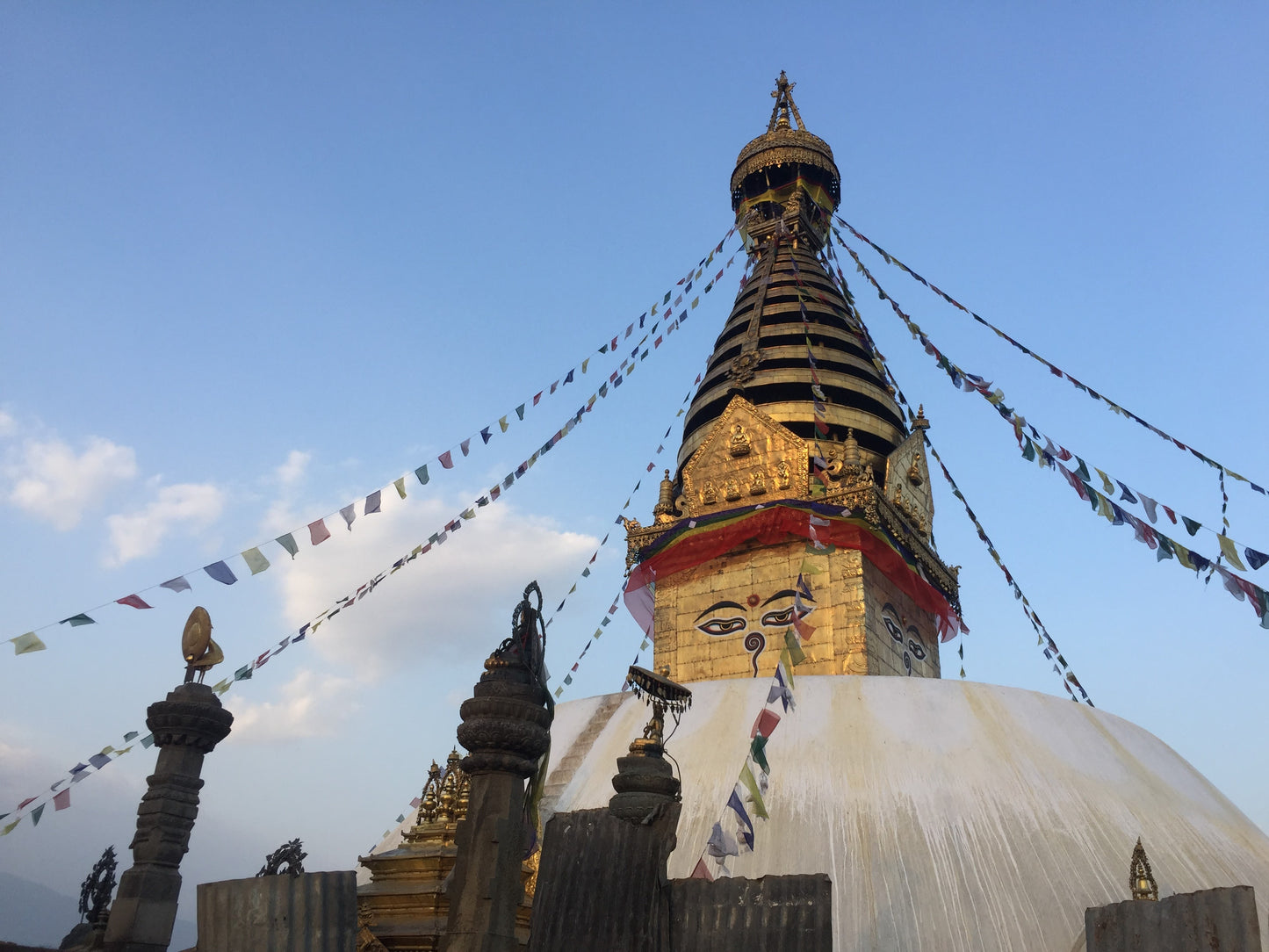 Collapsible content
ITINERARY

Itinerary, 18 Days:

Day 01 : Arrival in Kathmandu. Transfer to hotel
Day 02 : Sightseeing in Kathmandu. Trek preparation
Day 03 : Fly Kathmandu to Lukla
Day 04 : Trek to Phakding
Day 05 : Trek to Namche Bazaar
Day 06 : Rest day at Namche for acclimatizing. Visit Namche Bazaar
Day 07 : Trek to Tengboche. Visit the oldest Tengboche monastery
Day 08 : Trek to Pheriche Days 09 : Trek to Lubuche
Day 10 : Trek to Everest Base Camp
Day 11 : Acclimatize and explore the beautiful surrounding mountain views
Day 12 : Trek to Lobuche
Day 13 : Trek to Dingboche
Day 14 : Trek to Tengpoche
Day 15 : Trek to Namche Bazaar.
Day 16 : Rest day at Namche (buy your Sherpa souvenirs)
Day 17 : Trek to Lukla
Day 18 : Fly Lukla to Kathmandu, transfer to your hotel

EQUIPMENT

• Warm synthetic/ wool hat (one that covers the ears)
• Sun hat or baseball cap
• Sunglasses (essential eye protection at altitude)
• Sunscreen (SPF 40 or higher) and lip balm (SPF 20 or more)
• Bandanas: Tied around neck they give good sun protection
• Headlamp (bring plenty of batteries)
• Upper body layers: we recommend you have three warm layers, made of synthetic or pile. Make sure all layers fit comfortably over each other and supply good insulation. A good combination is a long underwear top, a sweater, and a pile jacket. Cotton items do not provide adequate insulation and are completely useless when damp.
• Synthetic fleece jacket and/0r pullover (medium weight)
• Shirts: 3 synthetic shirts for trekking, 3 cotton shirts for camp and lodges
• Hard-shell rain jacket with hood (GORE-TEX© or waterproof nylon that has been "seam sealed")
• Insulated synthetic or down jacket (medium weight)
• 1 pair lightweight synthetic gloves
• 1 pair quick-dry hiking shorts (good for hiking at lower elevations in the mountains)
• 1 pair long underwear bottoms (synthetic, no cotton)
• Hard-shell rain/wind pants (GORE-TEX© or waterproof nylon that has been "seam sealed"; full side zips)
• Trekking pants: synthetic, comfortable to climb in and provide good warmth on cool misty days, dry fast and prevent sunburn (Schoeller© fabric is recommended)
• Undergarments (enough for the duration of the program)
• 4 pair trekking socks (synthetic, medium weight)
• 1 pair hiking boots or trekking shoes (large enough to be comfortable with one liner sock and one heavy synthetic sock)
• Sport sandals or camp shoes (to wear in camp or lodges)
• Sleeping bag (rated to 0 degrees Fahrenheit)
• 1 frameless backpack (small size [2500-3000 cubic inches], comfortable with some support, adequate to carry personal gear. The pack should fit properly, have a good waist belt, and carry gear between 15 and 20 pounds.)
• 2 medium duffle/zip bags (1 to transport gear via porters; 1 to store non-mountain gear)
• Travel locks, nametags, and contact information written directly on the duffels
• Passport
• Trekking poles (adjustable and collapsible)